Biographies
Ruth Kadiri Biography & Net Worth: Contact Phone Number, Husband, Awards, Parents, Movies & More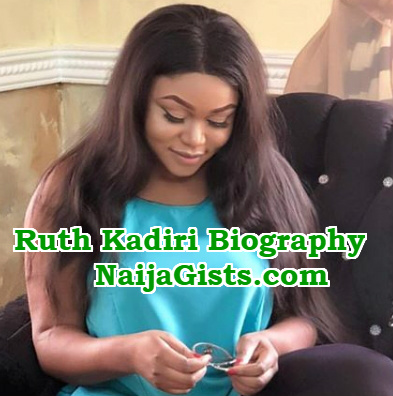 Ruth Kadiri Biography & Net Worth: contact phone number, husband, awards, parents, siblings, movies, and more.
Ruth Kadiri is a well known Nigerian actress, movie producer, and screenplay writer, who was born in March, 1988, in Benin, Edo State, Nigeria, but was raised in Ajegunle, Lagos State, Nigeria.
She comes from a christian family in Ehor Local Government Area, Edo State, Nigeria. Ruth attended the Yaba College of Technology, and studied Business Administration, and also attended the University of Lagos, and graduated with a degree in Mass Communication.
Ruth Kadiri Acting Career
Ruth Kadiri had passion and interest in cinematography right from a very early stage. She started writing back when she was in Secondary school, and has always paid more attention to writing.
She met Victor Eze who was the owner of a writing school, during her first audition at Wale Adenuga Studios, and then decided to improve her writing skills by attending his school of writing.
When she passed out, she launched her first script with the title "Wild and Dirty". This kick-started her screenwriting career.
Soon, she started acting and writing simultaneously.
The actress came into limelight through the movie "Boys Cot", which starred veteran actors like Jim Iyke, Mike Ezuruonye, and Nonso Diobi. The movie was about three friends who reunite after their NYSC, struggled to dead-ends for jobs, and later ventured into advance fee fraud (419), to make a living.
Ruth has acted and written so many movies over the years.
Her movies include: Sincerity 1,2,3 &4 in 2009, where she took a role as Adanma, Mad Sex in 2010 where she played Miriam, Ladies Gang 1&2 in 2011, where she played a role as Vanessa, Rain Drop (2011), Heart of a Fighter part 1 & 2, where she starred as Chika, Mercy the Bus Driver Part 1, 2, & 3 in 2012, Mad Couple 1&2 in 2014, Negative Influence (2014), Matters Arising in 2014, Yankee Students in 2015, Internet Hustlers (2015), Honeymoon Guys 2 (2015), Deceptive Heart 1 & 2 in 2016, Trouble comes to Town (2016), Nchekwube the Meat Seller 1&2 (2017), Tangled Web (2017), Baby Boy (2017), Biology Clock (2018), Paranoia (2018), Sex and Love (2018), and more.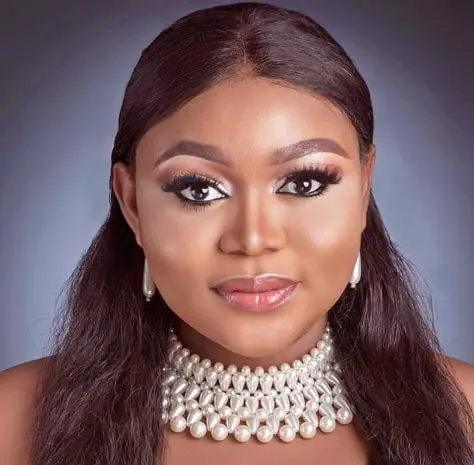 Being a screenplay writer, Ruth has both written, and co-written many films, including some which she starred in. These include the likes of "Heart of a Fighter, a movie she wrote in 2011. The movie tells the story of a girl who fights like a brave and furious male, but is transformed when she challenges the Prince of the kingdom. This drama is filled with several funny scenes, love scenes, and more, and it is loved by many.
"Matters Arising", a movie she wrote and produced in 2016. This is a play about a village couple who try to make ends meet as the wife struggles to restore her broken marriage with her cheating and unsatisfying husband. The movie is packed with several funny scenes you'd love to see, and is suitable to watch with the whole family.
"Trouble Comes To Town", a 2016 movie she wrote and also starred in. The movie tells a story about a troubled marriage between Bernie (Kenneth Okolie) and his wife Laurie (Ruth Kadiri).
Bernie forbids his wife Laurie from working, and makes her just a housewife. As a result, she is left without a career, and all her dreams are chartered. The boredom of staying at home alone leads her to ultimate depression and laziness. Due to the laziness, she neglects her personal hygiene, and stopped house keeping. This makes her husband Bernie to fall for another lady which he later brought home. This is a movie with several touching and hilarious scenes.
"Over The Edge", a 2016 drama, written and produced by Ruth Kadiri. She also starred in this movie as Regina, a jealous woman whose behaviour goes wild when she believes her husband Jerry (Eddie Watson) is cheating on her. Whenever she calls her husband, she tries to know his whereabouts, and if he doesn't pick up her calls, she concludes that he is cheating.
After much trouble, Regina decides to live peacefully with her husband but the peace is ruined when his secretary sent a flirty text to him by error. Out of jealousty, she got the secretary beaten up by thugs, and soon drove her husband Jerry away. As the marriage grew above repair, she later discovered her errors and looked for a way to get her husband back. This is a very interesting movie you'd love to watch. It is packed with several interesting, touching annoying, and funny scenes.
"Sex and Love", a 2018 movie which was written and produced by Ruth Kadiri. It tells a story about a wealthy man who wants to settle down, but wants a lady who is not after his wealth.
He facilitates a reality show looking for true love, with help from his aunt and brother. This is a another interesting movie you'd love.
Aside from the above movies,  Ruth has also written and produced many other movies like: Internet Hustlers, Yankee Students, Mercy the Bus Driver, and more.
Ruth Kadiri Foundation
Ruth is the proud owner of a foundation for kids that empowers the less privileged children all around the nation. This foundation has saved the lives of many children, and has given hope to many. According to Ruth, there is nothing she loves more than the smile of children.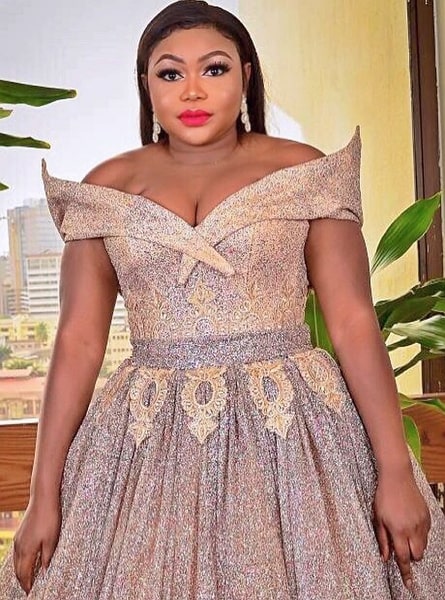 Back in 2011, she single highhandedly sponsored the education of five students at her almer mater, First Foundation College, Ajegunle, Lagos state, Nigeria.
Over the years, she has continued to put smiles on the faces of many.
Ruth Kadiri Awards & Nominations
Through the years, Ruth has won both awards and nominations. She has been nominated for the Golden Icons Academy Movie Awards for Best Female Viewers Choice, Best of Nollywood Awards for Best Kiss in a Movie, and also got nominated for the Golden Icon Academy Movie Award again, for Best on-screen duo award (Ruth Kadiri & Majid Michael- Matter Arising).
She received these nominations in 2015, and still won the Actress of the Year award by Nigerian Entertainment Awards same year.  Recently in 2018, Ruth won the Best Actress of the Year Award by the City People Movie Awards. Aside from the awards mentioned, she has also won some other awards.
Ruth Kadiri's family
Ruth is the first child in a family of four (including parents). She has a younger sister. According to her, her father lived in Italy while she used to live with her mum and little sister.
Is Ruth Kadiri married?
Ruth is not married to anyone yet. She used to date the Nollywood movie producer Stanley Ebonine, but they later broke up. Stanley dated Ruth for about three whole years. During this period, she regularly appeared in his movies, and she was very helpful to him as a scriptwriter. Their relationship was one which everyone thought would lead to the altar but in 2011, Stanley got married to his old love named Chinasa Agu,a native of Imo state, Nigeria, who worked in an insurance company.
It was reported that they had a secret marriage in Igbo-Etiti, Enugu State, Nigeria. The marriage was attended by close friends and relatives of Stanley. It was later said that Ruth didn't know about this, and was devastated when she eventually found out. However, Stanley openly debunked that.
He said in an interview, that he didn't dump the actress Ruth Kadiri. According to him, the rumours that Ruth didn't know about his marriage was false. He said she was fully in support of his marriage. He even went further to say that she is still his good friend, and he was with her, before he travelled for his traditional marriage, and his marriage was not secret.
He said people should learn to be quiet on matters they don't understand, as it causes confusion. Furthermore to debunking the rumour of having a secret marriage, he announced the date of his white wedding, and invited the rumour spreaders.
Recently, Ruth is said to be engaged to an unknown person in Sweden. During the 2017 Christmas day, she posted an engagement ring photo on her finger, with the caption; Merry Christmas world @ 12:15am December 25 2017, I said yes to the man who totally completes me. My daddy, my friend, my brother, my perv, my gossip partner. And my husband to be. God bless you and keep you safe for me.
Ruth Kadiri on social media (Instagram, twitter, e.t.c):
Ruth is very active on her social media accounts and you can find them below.
Instagram: You can follow Ruth Kadiri on instagram, @ruthkadiri. She has about 1.7million followers currently, and you can as well join them, if you are a fan.
Twitter: On twitter, you can follow Ruth Kadiri @ ruthkadiri. She is also active on this platform, and has about 26k followers at present.  These are her public accounts.
The others like Facebook and whatsapp are private and not known by the open eyes.
With her instagram and twitter accounts, you can still keep in touch, and get to know about the latest happenings around her.
Ruth Kadiri's net worth
Ruth is one of the most influential actress in the country (Nigeria) today, and she currently has a net worth of about N25 million. Note: This is an estimated Net worth.