Biographies
Babajide Sanwoolu Biography: Profile, Age, Family, State Of Origin Of Lagos APC Governorship Aspirant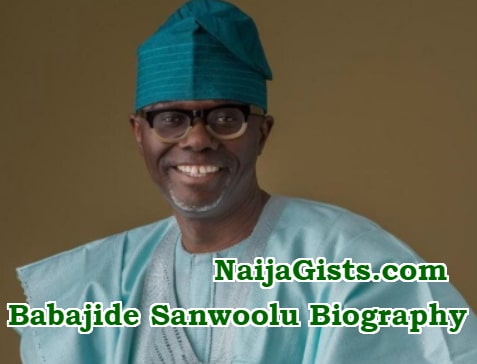 Baba Jide Sanwo-Olu Biography: Profile, Family History & Life Story of Lagos State APC Governorship Aspirant
Update: Jide Sanwo Olu has won the APC Lagos Gubernatorial primary election. He defeated his opponent by a wide margin.
The much anticipated APC Lagos state Gubernatorial primary election has been shifted to Tuesday, 2nd October, 2018. The two leading contestants are the incumbent governor of Lagos state, Akinwunmi Ambode and his Tinubu-backed rival, Babajide Sanwo-Olu. We bring you the profile, family and life history of the man, who is seeking to dethrone Akinwunmi Ambode from his seat as the Governor of Lagos state.
Over the past weeks, the upcoming APC primary election in Lagos state has created serious political tensions between and among APC stalwarts within Lagos state and beyond. The primary cause of these tensions stemmed from Tinubu's unexplained support of Babajide Sanwo-Olu, at the expense of the incumbent governor, Akinwunmi Ambode, for the Governorship position of the state.
Tinubu has chosen one of his loyal boys, Babajide Sanwo-Olu as his ordained candidate. So, who is this Babajide Sanwo-Olu?.
Babajide Sanwo-Olu Biography
The Tinubu-ordained APC governorship candidate in Lagos state, Babajide Olusola Sanwo-Olu, was born on June 25, 1965 in Lagos. He had a fairly good upbringing, in the midst of a well groomed christian family.
Most of Sanwo-Olu's education life has been in Lagos. He graduated from the prestigious University of Lagos, where he studied and obtained his Bachelor of Science degree in Surveying. Shortly after obtaining his B.Sc., he proceeded to acquire his masters degree. He re-enrolled into the University of Lagos and duly obtained his MBA in Surveying.
While Sanwo-Olu is a trained and certified surveyor, he has a strong knack for business. He enrolled at the Lagos Business School, where he acquired his advanced business training and duly obtained his degree in Business Administration. He also attended the Business School in London, where he obtained his MBA.
Sanwo-Olu, as a corporate guru who knows the importance of governance, enrolled at the United States' Kennedy Institute of Government. He was aptly trained in the area of government administration and civil responsibilities.
Babajide Sanwo-Olu, who is a trained Surveyor, started his career on a much different path. He was able to carve out a desired career path for himself and subsequently started out as a banker. He was, to say the least, highly successful in his chosen field of banking.
Sanwo-Olu's Banking Career
Sanwo-Olu is well known for his success in the banking sector, with banking experience spanning well over a decade. He took up several roles and served in various capacities in three top commercial banks in Nigeria; First City Monument Bank (formerly known as First Atlantic Bank), United Bank of Africa (UBA) and Lead Bank PLC.
Babajide Sanwo-Olu's highlights as a banker started in the mid 1990s. He was appointed/promoted to the position of a Treasurer at the Lead Bank PLC. In this capacity, Sanwo-Olu was tasked with the prime responsibilities of overseeing the Liquid asset of the financial institution. He was also tasked with the daily management of the overall funding requirements of the bank. His tenure in this role lasted for only three years. He left the role in 1997 and subsequently left the bank for UBA.
While at the United Bank of Africa (one of Africa's leading banks then and now), Babajide Sanwo-Olu rose to the rank of a Senior Executive Manager. He doubled as the Chief Head of UBA's Money Market (Foreign). His primary responsibility in this role entailed management of UBA's Liquidity and profit enhancement.
The Lagos state Governorship aspirant also headed UBA's Strategic team. His team oversaw the bank's entire investment banking among other important functions. Sanwo-Olu achieved significant success in his executive position at UBA and another top bank came calling for his services, with a much better offer.
Sanwo-Olu became the Deputy General Manager of First Atlantic Bank PLC (now First City Monument Bank – FCMB). He was charged with the responsibility of liaising with top companies in the country, as an expert Corporate financial analyst and advisor.
After about a decade at the top of the Nigerian banking sector, Sanwo-Olu decided to opt for a career transition, with the aim of infiltrating other private and public sectors.
Babajide Sanwo-Olu Career in the Private Sector
While, Babajide Sanwo-Olu has had his fair share of success in the Banking sector, he was equally successful in other businesses he ventured into, in the private sector. In fact, he was more successful in his other career endeavours in the private line.
Armed to the teeth with his corporate certifications, membership and experience, his success in the private sector is no fluke. He is a certified member of prominent management institutes in the country. Sanwo-Olu was trained in Personnel Management and holds the prominent membership certificate of CIPM (Certificate in Investment Performance Measurement). This is in addition to his certification by NITAD (Nigerian Institute of Training and Development).
Over the past 15 years, Babajide Sanwo-Olu has served as a board member of several top companies in Lagos and Nigeria as a whole. Apart from being a board member, he also acted in a consulting managerial capacity (chairman) for some of these firms. Some of these firms include:
PowerCap consulting – a private power consulting company in Lagos.
COSG – Caverton Offshore Services Group (Sanwo-Olu was a board member).
Baywaych Group of companies – Constructions and Real estate (Sanwo-Olu acted in the capacity of a Chairman).
LLNL-Light Level Nigerian Limited – a private digital solution firm (Sanwo-Olu acted in a directorial capacity).
First Class Group – with specialty in cooling mechanism. A support firm of many telecom giants in Nigeria.
Wow! Interiors – Interior design and house planning.
Beryl Shelter – a real estate coy.
The above are some of the top companies, where Babajide Sanwo-Olu held (or still holds) stakes. In some of these companies, he was the CEO/Chairman/Director. In others, he was only a stakeholder.
While Babajide Sanwo-Olu has been extremely successful in the private sector, his exploits in the public sphere has, thus far, been much more successful.
Babajide Sanwo-Olu's Career in the Public Sector
This part of Sanwo-Olu's career is by far the most significant. This portion of his career and the inherent achievements have stood him out. These have constituted the major highlights of his campaign. His exploits in the public space is, without doubt, his selling point in his quest of becoming the most powerful individual in West Africa's richest city, Lagos.
Sanwo-Olu has been hailed by many as an apt specialist in the areas of human development and strategic planning. He has acted in several capacities in the Lagos state government from 2003 to date.
In 2003, during the tenure of Lagos state's godfather, Tinubu, Babajide Sanwo-Olu was appointed as a Special Adviser by Tinubu's deputy, Femi Pedro. He acted in the capacity of Special Adviser to the deputy governor on Corporate matters. This appointment set him up politically for the best thing to come. Fifteen years down the line, he's became the favoured choice to take up the mantle of leadership in Lagos state.
A couple of years after his appointment, Sanwo-Olu was given the directive to oversee the ministry of Economic Planning and Budget, in an acting capacity.
Four years after his political appointment, he was appointed by the outgoing governor, Tinubu, as a substantive commissioner, to head the Lagos state Ministry of Commerce and Industry. The ministry is arguably the most important unit of the Lagos state government, with regards to its work functions.
After the 2007 election came Babatunde Raji Fashola, a candidate handpicked by Tinubu. Fashola relieved Sanwo-Olu of his role as the commissioner of Commerce and Industry. He, however, reappointed him to head the ministry of Establishment, Training and Pensions. Sanwo-Olu held this office for good 8 years. He left the office in 2015, after the expiration of Fashola's governorship tenure.
As emphasized above, from 2003 to 2015 (12 full years), Babajide Sanwo-Olu has been involved in the core operations and governance of Lagos state. He has worked successfully with two past governors of the state, Tinubu and Fashola. He, however, faces a more challenging ordeal, in his quest to oust the incumbent governor and fellow party member, Akinwunmi Ambode.
Currently, Sanwo-Olu is serving in Ambode's government. He is the Managing Director of Lagos State Property Development Company. A government owned setup, which oversees housing and urban development in Lagos state.
Sanwo-Olu vs Ambode
The major battle for Lagos state's governorship throne seems to be the battle at the primary level. APC being the ruling party at both the state and national levels, the eventual winner of the primary election is likely to become the governor of the state, come February, 2019.
Few days ago, Ambode held a world live press conference, where he launched some scathing attacks and accusation at his supposed enemy, Babajide Sanwo-Olu. He alleged that, Sanwo-Olu was arrested during his time in the United States, for spending fake dollar bills. The governor also claimed Sanwo-Olu is mentally unstable and unfit for office. Babajide Sanwo-Olu has since dismissed all the allegations levelled against him by Ambode as untrue.
While Babajide Sanwo-Olu has the backing of the Lagos state political godfather, Tinubu, Akinwunmi Ambode has the power of incumbency, subtly augmented by Federal might. The outcome, however, relies much on Tinubu, who, as the Chief Kingmaker of Lagos state, doubles as the National leader of the APC. The ordained candidate of Tinubu is no other person than Babajide Olusola Sanwo-Olu.
The primary election, which was originally scheduled to hold on Monday, October 1, 2018, has been postponed. The rescheduled date has been fixed for Tuesday, October 2, 2018. Fingers crossed! We are patiently awaiting the outcome of the primary election. Who do you think would emerge victorious? Akinwunmi Ambode or Babajide Sanwo-Olu?
Sanwo-Olu Family
Sanwo-Olu, who hails from a Christian home, is happily married with kids. Babajide Sanwo-Olu is married to Dr. (Mrs) Ibijoke Sanwo-Olu, their marriage is blessed with four kids.