Biographies
Nigerian Actress Fathia Balogun Williams Biography & Net Worth: Interesting Story Of Her Life, Family & Career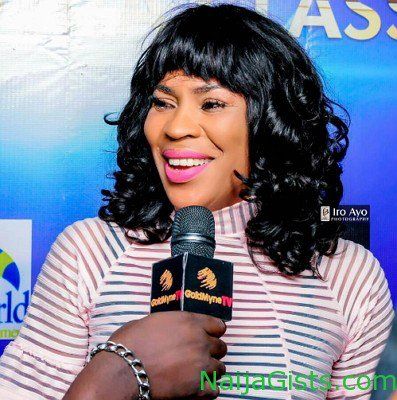 Nollywood Yoruba Actress Faithia Balogun Williams Net Worth & Biography: Interesting Story Of Her Family Life, Marriage & Career
By Our Editor
Award winning actress Fathia Balogun now known as Fathia Williams following her re-branding is a beautiful woman that has her roots in Delta State Nigeria and was born on the 5th of February 1969. She was born into a polygamous family and her biological siblings were 6 which consisted of three boys and two other girls. Fathia Balogun grew up in a strict household and this is believed to be as a result of her father's profession, he was an army man while her mother was a half-literate Igbo business woman.
She is known as one of the most beautiful women in Nollywood and has been hailed by many for her decent dressing, something which she attributed to the strict ways of her father while growing up. She claimed herself and her sisters named Arike Josephine Williams and Stella Williams were under immense watch by their father and so they grew up to behave as very decent women and even her brothers Charles, Henderson and Ken Williams were not spared from this.
Although her father kept a close watch on her and her sibling the beautiful actress claimed they were never close even she had a striking resemblance with him. Fathia Balogun claims her mom was the pillar behind her growing up to become one of the most successful women in the movie industry and still supports her till this very day. Although the actress is about to clock 60 years of age she remains ever green and is still one of the most active figures in the Yoruba genre of the Nigerian movie industry Nollywood.
Fathia Balogun had her primary education at the Maryland Primary School before proceeding to get her secondary education at an extension of her primary school which is Marland Comprehensive College, both schools were situated in Lagos State Nigeria.
Growing up was a tough process for the actress as her beauty made her and object of attention in the public, apart from being disturbed by men she also had to do menial jobs to feed and also provide for her education.
She managed to pull through this and after she was done with her Senior School Certificated Examination (SSCE) she proceeded to study Law at the Kwara State Polytechnic, her stay in the polytechnic was a successful one even though it was accompanied by many trials. She finished her programme and received a diploma in the polytechnic.
The actress was unable to further her education because e she was subsequently denied admission to study her dream course which was accounting. Acting was never part of her plans  and it was during the wait to get admission and study her dream course that she started taking roles and fell in love with it.
She quickly rose among the ranks because her entrance into the movie industry occurred at a time that there was scarcity of females in the Yoruba genre of Nollywood.
At the beginning of her career Fathia Balogun's father strongly opposed her choice of becoming a professional actress due to his strong conservatism. It was not until a few years ago the actress was able to win him over. Her career started with minor roles and she has managed to grow over the years. She had a first movie role after her diploma at the Kwara State Polytechnic.
Since then, she has gone to feature in 100s of movies and has even promoted to the status of being one of the famous producers in Nollywood. Some of the famous movies she has featured in are Aje Metta 2&3, Omo Ale which was released in 2015 and a more recent My Woman which was just released this year 2018.
All of the previously mentioned movies were very successful and were the recipient of some awards but the actress also has some reputable awards to her name which include Africa Movie Academy Award in 2014 as the Best Actress overall in that year and also an oustanding feat in which a movie written by her "Iranse Aje" was rated as the best native film for that year, thus winning Best Indigenous Movie and her winning the Best Indigenous actress award in 2008.
She was already one of the famous actresses in the movie industry but her award in 2008 is believed the have set new standards for her, making her one of the A-list actresses in Nigeria.
After a successful stint as an actress Fathia Balogun decided to widen her purview and thus went on to become a producer.
One could say she is multi-talented as many of the films in which she produced have gone on to become a great success.
"I believe I am unlucky when it comes to marriage" those were Fathia Balogun's words when she was asked why she has not been able to maintain a stable relationship over the years which led to her marrying two times and got divorced in both. The details of her first marriage are not known to the public because she kept it under wraps but her second marriage is quite popular.
Fathia Balogun got married to her colleague, popular actor and producer Saheed Balogun where she picked up the last name Balogun. Saheed Balogun is an experienced actor and producer who has been one of the active members on the entertainment scene for decades.
The union between Fathia Balogun and Saheed Balogun increased the societal status and they were often referred to as the couple to look out for in Nollywood and everyone hoped to have something like theirs. The marriage produced two children namely Aaliyah and Khalid Balogun but soon took a down turn as a result of reasons that still remain unknown.
The couple have been separated since 2006 but Fathia kept her ex-husband last name until a few years ago when she changed her last name on all her online profiles to Williams. When asked for the reason behind her decision for this she claimed that she was merely re-branding and not doing it to spite her ex-husband.
It does not seem like the actress has moved on from her ex-husband Saheed Balogun because she has claimed she is open to reconciliation on various interviews. Their marriage was sorrounded by a lot of controversy and even though they have been separated for a while the public still has its eye fixed on them.That is the stress that comes with being not only famous but also one of the most notable in their field and both individuals have managed to overcome this disturbances standing tall.
The fact that the beautiful actress is about to clock 50 is unbelievable as she is still very beautiful and still takes on very strenuous roles in movies. Fathia Balogun has been asked in the past why she only acts in Yoruba movies and she said there is no tribalism present in her work and her choice of movies is as a result of her roots and where she found herself. The actress seems to be trying to change this opinion of herself as she now takes more roles in English speaking movies, an example is "My Woman", a movie that was released this year.
Fathia Balogun is also a philantropist and she has a foundation to her name called Fathia & I.
On the matter of love, the actress hopes she will find love again and this time be more fortunate in her affairs.
Fathia Balogun is one of the most prominent entertainers in Nollywood and has contributed immensely to the growth of the industry both at the front and back of the camera. Her experience is invaluable and she is using it to the good of the industry by bringing up a new generation of stars. She deserves many more awards for her works and without doubt she would still be one of the most respected and famous actresses in decades to come.
Her estimated net worth in Naira is 98 Million.