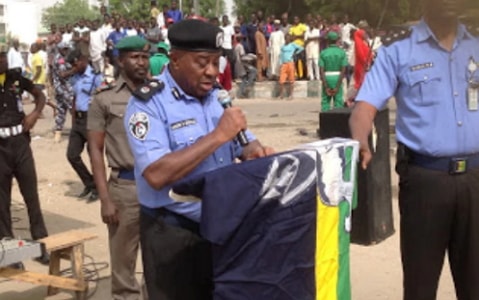 Police in Borno state has launched an investigation into the incessant ritual killings in the st ate.
Borno state Police Commissioner Damian Chukwu told NAN on Sunday in Maiduguri that detectives were probing the killing of a woman a month ago and the recent forceful removal of the eye of a 58-year-old with mental problems in Maiduguri for suspected ritual.
Chukwu said the woman was found murdered with her throat cut off in a hotel room in Maiduguri.
"It is not that the cases usually happen. These two cases are isolated incidents," he said.
The commissioner assured residents that "investigation is on to unravel the perpetrators.''
NAN reports that residents of 202 Housing Estate in Maiduguri are yet to recover from shock after removal of the eyes of the man believed to be an Internally Displaced Person (IDP).
Sources told NAN the incident occurred last Thursday, less than 24 hours after the body of a seven-year-old girl was found at Mairi ward in the metropolis.
Mr. Gulumba Galtimari, a resident of the estate, who confirmed the incident, said the victim was pinned down by suspected ritualists before removing his eyes with a sharp object.
He said: "We saw the man screaming. We tried our best to know his name or where he came from to enable us reach out to his families, but to no avail.''
Malam Yahya Muhammad, another eyewitness, told NAN that efforts to stop his pain at the hospital proved abortive.
He said: "We took him to the state Specialist Hospital and University of Maiduguri Teaching Hospital, but we were told the hospitals were on strike.
"We then took him to the state Psychiatric Hospital, but we learnt the facility has not been operational in the last four years due to Boko Haram insurgency.
"We later took him to an eye hospital, but they said they don't have bed space.
"Eventually, we returned him to where we picked him. All we could do to him at that moment was to give him food and pain reliever prescribed by a pharmacist.
"Two days after, we located his family in Konduga. After we told them what happened, they said there was nothing they could do because they were financially incapacitated to take care of him.''
Mr. Dogara Yohanna, the father of the seven-year-old victim, said the deceased was earlier declared missing for about six days.
He said she was last seen when her mother sent her on an errand to buy Maggi cube, but never returned alive.
"I leave everything to God,'' said Yohanna as he wept.
Mr. Ibrahim Wada, a resident of Tasham Bama, said more than 12 of such ritual cases had occurred in the area this year.
He said ritual killings required urgent action by security agencies.
[NAN]