Sport News
England Basketballer Jamell Anderson Proposes To Girlfriend Georgia Jones At Ongoing Commonwealth Games In Australia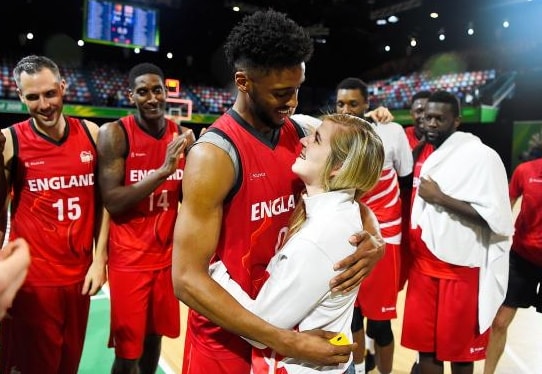 It is not just a matter of medal chasing for the duo of England Basketballers Jamell Anderson and Georgia Jones at the ongoing commonwealth Games in Australia, but also a matter of the heart and taking relationship to the next level.
The duo dished out a surprise package for teammates when they announced their engagement informing teammates and on-lookers alike that they have indeed been dating and now it is time to take the relationship to the next level.
With the help of his team-mates, Anderson surprised his now-fiancee moments after England's 81-54 victory over Cameroon, a win that was enough to put England's men's team into round two of the competition in Townsville.
Video released by Team England showed the men's team gathered in a post-game huddle while Jones watched on – having earlier contributed nine points to a 78-51 win over Mozambique – but as the huddle broke Anderson was waiting down on one knee.
'I only told them just now,' the 27-year-old Anderson said of getting his team-mates involved. 'They initiated the plan really well, so that went perfectly. It's been on my mind for a while, so now I can just play basketball.'
Anderson plays his club basketball for Polideportivo La Roda in Spain while Jones, 28, plays for Manchester Mystics in the Women's British Basketball League.
'I had absolutely no idea,' Jones said. 'He told me I was just getting a picture taken. I'm just in shock.'
The players were not the only one that converged for the impressive engagement but also the technical crew who joined in the clapping ovation that followed the engagement. Anderson who has played for Essex Pirates, Leicester Riders and Chesshire Phoenix before joining Townsville Heat in 2017 was first called to the Eagland U20 in 2009 for the European championship in Macedonia.
He made his international debut for the senior national team in a friendly match against France.