Akwa Ibom State News
Chaos As Mad Man Chases Teachers & Students Out Of Private Secondary School In Utu Akwa Ibom State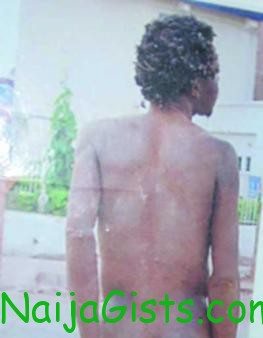 Chaos As Mad Man Chases Teachers & Students Out Of Private Secondary School In Utu Akwa Ibom State
Pandemonium struck today as a mentally challenged man attacked a private secondary, MC'intire Secondary school in Utu, Abak local government area of Akwa Ibom state.
The mad man chased away staff and students of the school with a matchet and went ahead to destroy no fewer than three vehicles parked in the school premises, it was learnt.
Our correspondent learnt from eyewitnesses that the incident which occurred after the morning devotion caused students and staff members to run helter skelter for their lives as rampaging mad man chased everyone with his machete.
Angry that he could not succeed in killing or inflicting injuries on anyone, lunatic is said to have descended on the cars, believed to belong to members of staff of the school.
A staff of the school while narrating the incident to the Nation on Wednesday disclosed that the mad man who took over one of the classroom blocks during the long vacation, may have angry that he was being displaced upon the resumption of staff and students after the holiday.
The staff, who spoke on ground of anonymity for fear of the unknown described the action of the mad man as a serious threat to the lives of students and staff of the school, recalling that the mad man burnt down a classroom last month, August.
"Aside the destruction of the vehicles, staff, students, parent and children seeking admission in the school also escaped death from the mad man's sharp matchet as he brandished it seeking to harm anyone that dared come near him.
"The same mad man had on August 18, 2018 at about 9pm, set fire and burnt down Senior Secondary One (SS1) classroom that accommodates no fewer than 200 students", our source noted.
Another source in the school said he was shocked to witness the incident appealing that security should be beefed up within the school premises and completion of the ongoimg perimeter fence in order to ensure safety of lives and property.