Benue State News
Mad Man Who Beheaded Sister In Benue State Lynched By Angry Youths While Fleeing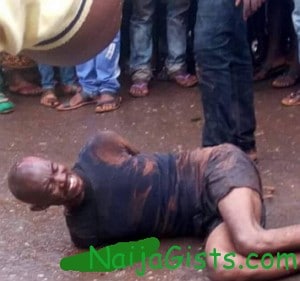 October 14, 2017 – Mad Man Who Cut Off His Sister's Head In Otukpa Benue State Beaten To Death By Angry Youths While Fleeing
A mentally unstable man has been lynched in Benue state hours after he allegedly beheaded his sister after a heated argument.
The now deceased young man simply identified as Jonah reportedly used a machete to behead his ysister on Thursday morning.
Nemesis caught up with him while he was trying to escape from Otukpa village when some angry youths eat him to stupor.
Though Police came to his rescue, he reportedly died of his injury.