Benue State News
Man Calls Baby Daughter His Sheep, Sacrifices Her To god In Benue State, Says No One Should Condemn Him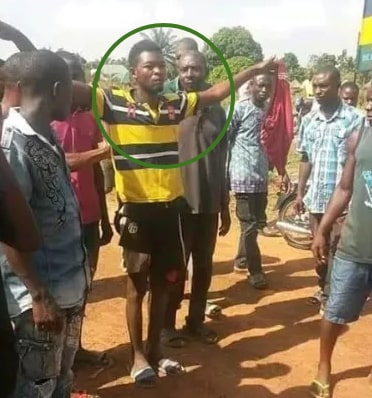 Man Calls Baby Daughter His Sheep, Sacrifices Her To god In Benue State, Says No One Should Condemn Him
By Cephas Iorhemen
Less than one month after a housewife Mrs. Rachel Adetsav slaughtered her husband, three children and stabbed herself to death in Makurdi, the Benue State capital, another man identified as John Depuun on Wednesday slaughtered his own infant daughter saying he committed to crime "as a sacrifice to God".
Depuun, whom New Telegraph gathered could be between 35 to 40 years, hails from Mbangur, Tse-Agberagba in Konshisha local government area of the state.
It was gathered that the man had reportedly snatched the nine months old baby girl from his wife and took her to the bush, where he allegedly slaughtered her and abandoned her in the pool of her blood.
The father, it was learnt had confessed to the killing, saying he "did it as directed by God".
He said, "It is my sheep and I decided to sacrifice it to god as demanded of me. I have not laid my hands on anyone's child and as such, should not be condemned".
Family members alleged that Depuun was mentally unstable, a presumption he had denied.
New Telegraph gathered that the kilker-faher has already been arrested by men of the Nigerian police in the local government for committing the heinous crime.
The Police spokesman, DSP Moses Yamu confirmed has confirmed the incident saying the man had been arrested while investigation is in progress.
[New Telegraph]