Biographies
Mercy Aigbe Biography & Net Worth:True Life Story, Family & Educational Background Of Nollywood's Most Stylish Actress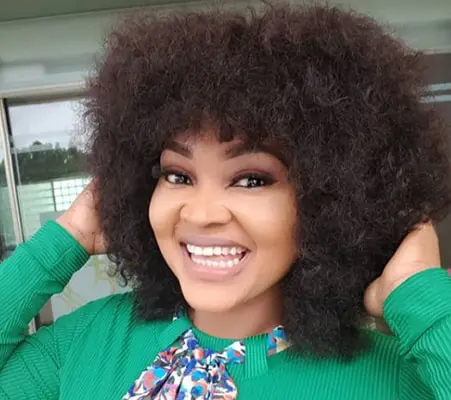 Nollywood Actress Mercy Aigbe Biography & Net Worth: Encouraging  Life Story, Family & Educational Background Of Edo Born Nollywood Most Stylish Actress Mercy Aigbe
Mercy Aigbe is a beautiful actress, producer and business woman that has her origin in Edo State Nigeria. She was born on the 1st of January 1978 and is currently 40 years old. Mercy Aigbe is still one of the most beautiful actresses in the Nigerian movie industry, her stunning physical traits are attributed with her place of origin Edo State as they are known for having women that are extremely good looking.

Although the actress was born in Edo State she spent most of her life in the very lively cities of Lagos, where she was born into a family of 5. She had her secondary education at the Maryland Comprehensive College in Lagos before proceeding to get her Ordinary National Diploma (OND) in Finance at the Polytechnic of Ibadan. Mercy Aigbe's major ambition was to become an actress but her father strongly opposed it, he was a conservative man that believed women in the acting profession could not manage a stable home.
After strong persuasion by herself, family and friends her father later succumbed to her decision to become an actress, thus she proceeded to University of Lagos where she earned a degree in Theatre Arts.
A few years after Mercy Aigbe was done with her education she decided to enter fully into the acting profession. She became a full time actress in 2006 and has since then featured in 100s of films. She admitted that at the beginning of her acting career she had problem coping with the roles because they were in Yoruba language but was able to learn fast because of her passion to become an actress.
She has featured in 100s of films since then with her most prominent movie being "Osas Omoge Benin". The script was written by her and the plot was one of a local Benin girl that came to experience the lavish lifestyle of Lagos. She managed to win the hearts of many people with her role in this movie especially her father that was proud that she was representing the Benin culture.
Mercy Aigbe is an exceptional actress, thus she has a lot of reputable awards to her name such as City People Entertainment Yoruba Personality of the year in 2015, Best Supporting Actress in Yoruba Movie in 2010 and so many others. She is also a producer with various commercially successful movies to her name.
The actress is also famous for her enviable fashion sense. Without doubt Mercy Aigbe is one of the best dressed actressess in the whole Nigeria Movie Industry. When asked in an interview how long she takes to get dressed, the actress said "It takes me one hour to get dressed but if I am going for a party it takes more time for me to get ready".
Her superior fashion sense is also coupled with her entrepreneurial mind. Mercy Aigbe is the owner of one of the biggest fashion boutiques in Nigeria named "Mag Divas". The actress won the Links and Glitz Fashion Entrepreneur Award in 2015.
The actress has on various occasions declared how much she loved making her own money, that is said to be the motive behind her investment in fashion despite being one of the most famous actresses in Nollywood.
In contrast to her successful acting carer Mercy Aigbe seems to be an unlucky person when it comes to relationships and marriage. She separated from her first husband because of frustration from her mother in law and then got married to a Nigerian hotelier and business man Otunba Lanre Gentry a few years later.
The relationship seemed to be going very well but everything soon turned sour when she accused her husband of infidelity. She claimed he was messing around with her personal assistants.
Before their official break up there were various allegations that Mercy Aigbe, then Mercy Aigbe Gentry was physically abused constantly, allegations in which she denied by herself but later came out to confirm years later.
Their union ended on very ugly terms as Otunba Lanre Gentry was remanded in Kirikiri prison for domestic violence. Both Mercy Aigbe and Otunba Lanre Gentry were married before they met each other, the actress had a girl named Michelle from her former marriage and had a boy with Lanre Gentry.
The couple have gone their separate ways and Mercy Aigbe no longer bears or associates herself with the last name Gentry.
Domestic violence is something that is rampant in the Nigerian community and should be curtailed.
The actress is still working on developing herself as an actress and also hopes to make her Fashion Boutique Mag Divas of word class standard. She launched her own foundation named Mercy Aigbe Foundation and believes in making life comfortable for the less privileged.
One would not believe that the actress celebrated her 40th birthday on the 1st of January this year, she still takes on very active and strenuous roles in movies and is still very beautiful. Her children Michelle and Juwon are growing up to be very beautiful individuals and are already being referred to as celebrities in the making, all thanks to social media.
Apart from her own personal fashion boutique, her daughter Michelle also owns a boutique. This seems to be a trend among celebrity children as Mercy Aigbe's colleague Iyabo Ojo's daughter is also following in the same footsteps.
Mercy Aigbe has been the headline for the news a lot in recent times and it is not because of her movies or her fashion boutique. There are rumours that there is a rift between her and best friend/colleague Toyin Aimakhu. The two A-list actress have been throwing shades at each other on social media, the two celebrities have not come out to confirm the cause of the fight but we hope they settle it soon.
Away from the negative drama, the popular actress just acquired a mansion in Lagos. She took to social media to give thanks to God for helping her achieve such a high feat and becoming a landlady in Lagos, something she had always wanted for a long time.
The actress is definitely living life at its best being blessed with two beautiful kids and a successful career. She has so much more to give to her fans and we are eagerly waiting for her.
Her estimated net worth is 85 Million Naira.