Biographies
Nigerian Actor Pete Edochie Biography & Net Worth: Awards, Family Background, Education, Children And More…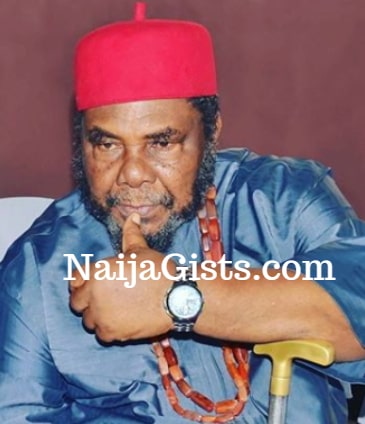 Nollywood Actor Pete Edochie Biography & Net Worth: Awards, Family Background, Education, Place Of Birth, State Of Birth And More…
Pete Edochie is without doubt one of Africa's greatest actors. This veteran actor can be said to be one of the great pioneers of TV and the entertainment industry in Nigeria. His contributions and works have proved invaluable with him being a recipient of many local and international awards, one of which is the 'Member of Order of Niger', a highly reputable award given to only the most respected individuals in Nigeria.
This wonderful veteran actor has had a life and career that has spanned for decades. He is one of the few active members of the entertainment industry that witnessed Nigeria's turn around in the form of colonialism, the Civil War and the birth of a new nation. All these experiences complemented by exceptional skill and talent have made Pete Edochie not only one of the greatest actors in African history, but also a father and mentor to many.
He has done well to build a stable career and family life over the years, with his seeds excelling in their different aspiration. His popular quotes have served as an art of wisdom to younger ones both inside and outside the entertainment industry over the years. Pete Edochie is an exceptional individual with invaluable contributions to the entertainment industry, especially Nollywood. This article offers an insight into the life of this veteran actor.
Pete Edochie's Early Life
He was born on the 4th of March 1947 in Enugu state, in the Eastern part of Nigeria. He was, however, was an indigene of Anambra state. Edochie was born in what many categorized as early Nigeria as it was more than a decade before Nigeria gained independence and much longer before the great Civil War.
He was therefore fortunate to witness the most peaceful of times and had his fundamental education in the Neighboring state of Kaduna. The veteran actor had his fundamental education in schools located in Zaria Kaduna, and after a successful short stint there he gained interest in broadcasting and subsequently went ahead to further his education in it.
The actor proceeded to England to further his education. There he enrolled in the School of Journalism and Television, where he studied Journalism and Television. With the required basic skills and knowledge, Pete Edochie returned to Nigeria and joined the Eastern Nigerian Broadcasting Corporation (ENBC) a few months to when the Civil War broke out. The ENBC was later changed to Radio Biafra. During his day at the ENBC, the veteran actor witnessed the start and end of the Biafran war and was later trained to by the British Broadcasting Corporation (BBC) in 1980.
He was part of the New Era that was ushered into the (ENBC) now known as the Anambra Broadcasting Service (ABS) following the end of the Civil War and creation of new states, which included Anambra State. Pete Edochie was regarded as a very active worker during his time at AbS, with him playing several roles on the job. His first position was that of a Junior Programmes Assistant, and he steadily rose among the ranks until he attained the position of a Director. His relentless work continued after his promotion, and he often played the roles of Deputy Managing director, and the 'Managing Director' himself, all in a quest to give his best and make ABS one of the top broadcasting service in the country.
There was, however, an unfortunate turn of events that saw Pete Edochie and the entire management of the ABS lose their jobs. This was as a result of the aftermath of the great civil war which left the country on the brink of collapse. It ultimately led to the politicization of the ABS, a move many of its workers did not agree with, and it eventually led to them getting sacked. Edochie used the setback to his advantage, as he subsequently went into the movie industry.
Pete Edochie Career, Awards & Net Worth
Due to his background, the actor didn't take long to make it to the big screen because of his experience and skill he gained over the years. He featured on popular NTA adaptation 'Things Fall Apart.'
The actor said getting a role in NTA's adaptation of the book by Chinua Achebe gave him a strong significance in the movie industry. His role was so impressive that he was personally interviewed by the British Broadcasting Corporation (BBC).
With his earlier exposure to the movie industry through 'Things Fall Apart' and years of experience working hard at ABS the actor found it easy to adapt and make his name in the movie industry. He spent years playing exceptional roles and steadily rising among the ranks. A decade into his career as an actor, Pete Edochie had attained the height of being one of Nigeria's most revered actors.
He featured in many inspiring and commercially successful movies earning several awards in the process. Some of his most prominent movies include Oduduwa (2000), Battle Line (2002), Rejection Son (2003) and Mummy Why (2016) just to mention a few. Pete Edochie has featured in over 100 Nollywood movies alongside many of the biggest stars such as Genevieve Nnaji, Rita Dominic and many others. Most of these A-list colleagues have on different occasions stated that it is a privilege to work with the veteran actor and they are often inspired by his experience and wisdom.
The however witnessed a slight setback in 2005 when he and several  other A-list actors which are Omotola Jalade Ekeinde, Ramsey Nouah, Genevieve Nnaji, Richard Mofe-Damijo (RMD), Nkem Owoh, Stella Damascus Abodunrin and many others were charged by the Actors Guild of Nigeria, the official body in charge of movie entertainers in Nigeria, for extorting producers and others willing to hire their services of enormous amounts due to their A-list status. They were famously known as the G-8 but everything soon returned to normal after they served their one year ban. The crisis shook the entertainment industry to its foundation.
The actor who witnessed the growth of the Nollywood movie industry over the years bagged several awards for exceptional talents.
Some of his most prominent awards includes; Lifetime Achievement Award given to him by Africa Film Academy and the prestigious and highly distinguished Industry Merit Award by Africa Magic. Another rare feat acquired by the veteran actor is that he is one of the few recipients of the reputable national award, Member of the Order of Niger, an honor bestowed on him by former president Olusegun Obasanjo in 2003.
Pete Edochie's works remain relevant till date because he is still regarded as one of Africa's most talented and sought after, even though his onscreen time has reduced compared to previous years.
His experience combined with his social status and several business investments have earned him an estimated net worth of $2.8million.
Pete Edochie Family Life & Relationships
He is one of the few actors that has managed to maintain a stable career and relationship despite the negatives attached to their career on the grounds of fame and social relevance. The veteran actor has had a very successful married life having  tied the knot with his beautiful wife Joseline for more than four decades. The veteran actor is a proud husband, father and also a grandfather.
He married his wife at the early age of 22, and the couple is blessed with six wonderful children. They have all grown up to be wonderful individuals but have managed to keep their personal life away from public view over the years, except Yul Edochie and Linc Edochie who have chosen to follow their father's footsteps and follow a career in the entertainment industry.
Both his sons have been doing well over the years steadily gaining prominence, a beautiful sight to their father. When asked about how he has been able to keep his family together despite the pressure of being a famous actor, particularly avoiding 'divorce' a common occurrence in the entertainment industry, the actor was quick to state that he had no need for another woman as he had married the love of his life, Josephine Edochie. Josephine, an engineer is also regarded as a hardworking woman just like her husband.
There were several allegations and rumors among his fans who believed that the veteran actor was married to female colleague Rita Edochie, but this is far from the truth.
Rita Edochie is Pete's younger brother's wife. The actor clarified this when he was interviewed by a journalist, although making a joke that she is also his wife according to Igbo tradition.
Pete Edochie's Latest News
The veteran actor's screen time has decreased relative to previous years and this is of no surprise as the actor is currently at a prime age of 71 years. He is more involved in activities that are aimed at developing the entertainment industry in Nigeria and mentoring the new generation of actors and actresses. One of such example is his role in helping the newly reformed ABS Film Academy secure funding from the state governor William Obiano for the development of the institution and sponsoring of its students to be able to follow their dreams. The veteran actor is also famous for his proverbs, which have done well to remain relevant till date and he is an active supporter of worldwide NGO 'Wikimedia'.
Pete Edochie is also spending quality time with his family. Various pictures of the couple which have found their way to the internet show that they are doing well, considering the commitment and love they have shared for each other over the years one can say that it is well deserved.
He is also a very strong and active supporter of his son, Yul Edochie's political ambition. Yul Edochie who has also managed to make his name in the entertainment industry over the years has decided to capitalize on himself and his father's fame and influence, subsequently hoping to become the next governor of Anambra State come 2019. It is believed that his father, Pete Edochie who is a very influential man in Nigeria, particularly in the Eastern region will support his son with full force. Is Pete Edochie a governor's father in the making? 2019 will tell.
Pete Edochie is an exceptional talent that has made valuable contribution towards the development of Nigeria's entertainment industry to what it is today. He has had a life full of ups and downs, a terminated career, and several other unfortunate events but he has managed to always come out on top, and as of today, he is celebrated as one of the greatest to ever come out of Nigeria.
---
Copyright © NaijaGists.com. All rights reserved.

This material may not be reproduced, published, broadcast, rewritten or redistributed in whole or in part without prior express written permission from NaijaGists.com.